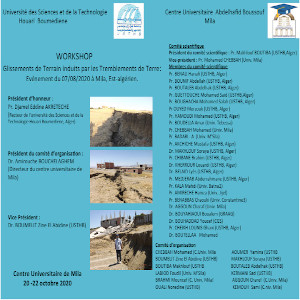 Workshop on landslides
Under the high patronage of the wali of Mila, and in cooperation with the Houari Boumediene University in Algiers, the Abdelhafid Boussouf University Center in Mila is organizing a workshop entitled:
"Landslides caused by earthquakes -Case of the earthquake of August 7, 2020 in Mila"
This workshop is organized as part of the opening of the Abdelhafid Boussouf-Mila University Center on its economic and social environment. It also responds to the exceptional circumstances of landslides, which are causes by earthquake.
The workshop is an opportunity for experts and academics to discuss the main causes and consequences of this phenomenon.
By this occasion, the Director of the University Center of Mila, Dr Bouchelaghem Amirouche, wishes to thank the wali of Mila, for his welcome and his unlimited support for this initiative of our university center .